90 MODELI ŚCIĄGACZY FACOM DO RÓŻNYCH ZASTOSOWAŃ - W ZAKRESIE DO 800MM!
Właściwe pytania jakie należy sobie zadać podczas doboru ściągacza:
• Jaki typ części zamierzamy ściągać? = łożysko, koło pasowe, szpilki, nakrętki.
• Jaka jest średnica części, która ma być ściągana? = dobór wielkości.
• Jak chwytać część? = dobór rodzaju chwytu: zewnętrzny, wewnętrzny, specjalny.
• Sposób ciągnięcia części? = wybór punktu podparcia: na osi środkowej, na zewnątrz części, brak punktu podparcia
(= zastosowanie elementów pomocniczych).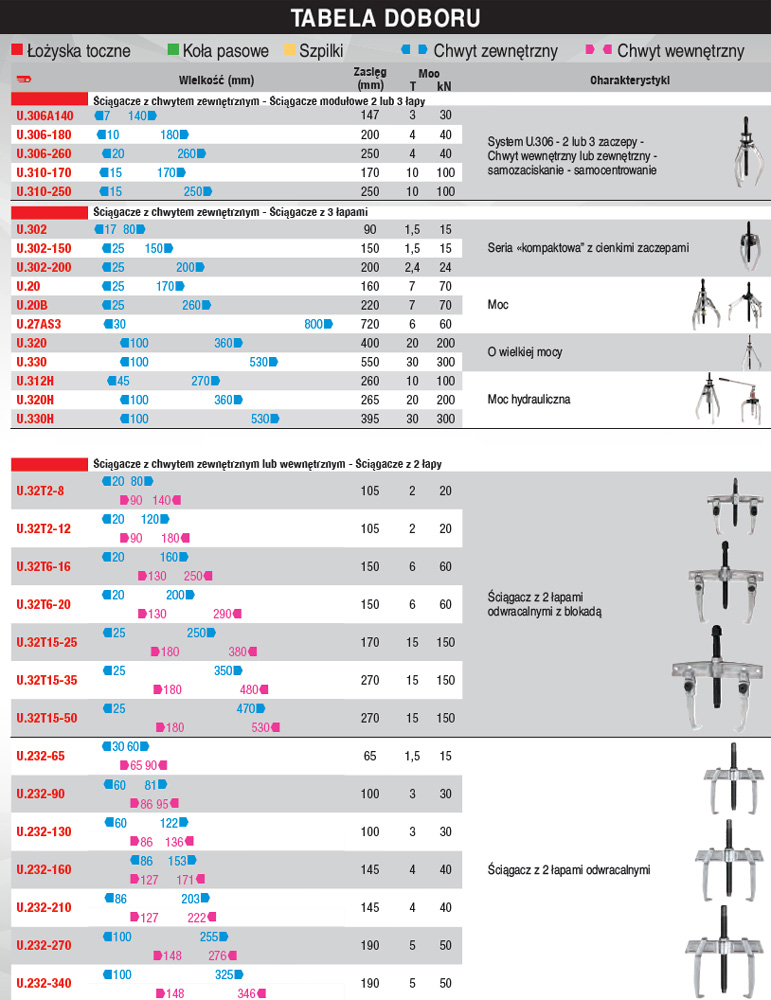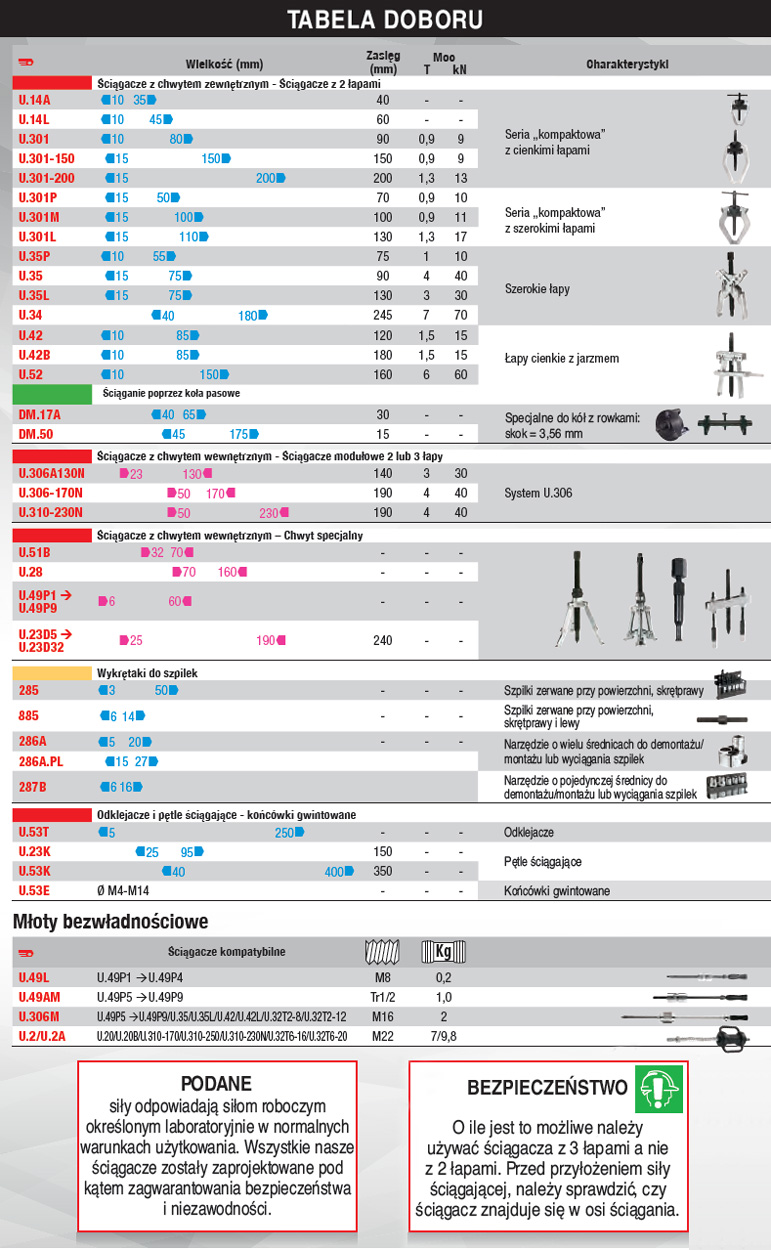 Przede wszystkim bezpieczeństwo!
- Budowa i wybór materiałów ściągaczy FACOM stanowią gwarancję niezawodności i bezpieczeństwa.
- FACOM wprowadził kołek ≪ograniczający siłę", który ulega ścięciu kiedy maksymalny dopuszczalny moment zostanie osiągnięty (serie U.306/310 i U.20).
Ściągacze: nie czekaj, aż będą Ci potrzebne!
- Oszczędność czasu: dobry ściągacz w zasięgu ręki to możliwość szybkiej reakcji w razie awarii. Umożliwia szybkie wznowienie produkcji.
- Rentowna inwestycja: kiedy maszyna ulega awarii, każda upływająca sekunda to strata czasu produkcji i pieniędzy. Koszt ściągacza często zwraca się już po pierwszym użyciu.
10 PORAD FACOM
Ściąganie może wymagać czasami bardzo dużych sił: czynność może stać się niebezpieczna. Dlatego należy używać ściągaczy w sposób profesjonalny.
1. Należy zakładać okulary ochronne i rękawice.
2. Należy sprawdzić, czy ściągacz jest w dobrym stanie i czy śruba centralna jest równomiernie nasmarowana.
3. Nigdy nie należy modyfikować ściągacza. Nie należy szlifować, ani spawać zaczepów. Każda przeróbka może stanowić źródło niebezpieczeństwa dla użytkownika i powoduje anulowanie gwarancji.
4. O ile jest to możliwe, należy używać ściągacza z 3 zaczepami dla lepszego rozłożenia sił.
5. Łapy powinny być zakładane starannie i należy sprawdzić czy ściągacz znajduje dokładnie w osi ściągania.
6. Należy osłonić, o ile to możliwe, za pomocą siatki lub płachty, ściąganą część i ściągacz, aby uniknąć ryzyka gwałtownego odskoczenia ściąganego elementu.
7. Przed rozpoczęciem ściągania, należy sprawdzić, czy nic nie przeszkadza w wyjęciu części: kołnierze, kliny, nakrętki.
8. Nie należy ustawiać się za ściągaczem, lecz z boku.
9. Ograniczyć do niezbędnego minimum liczbę osób znajdujących się w pobliżu.
10. Na śrubę ściągacza siłę należy przykładać stopniowo. Nie stosować kluczy udarowych.
Przejdź do produktów: